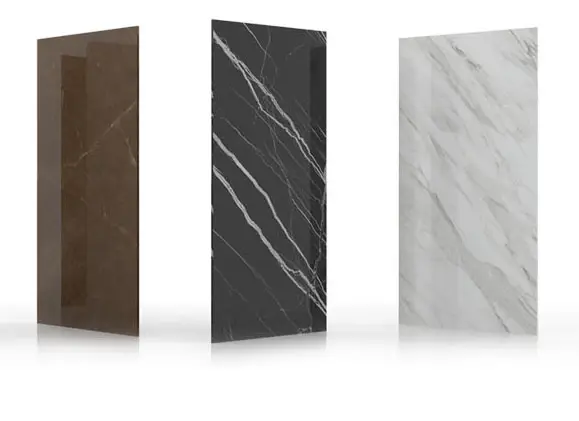 Reya Impex is one of the finest porcelain tile slab OEM manufacturers in India and supplies large format slab to US, UK and other countries. Porcelain tiles give a clean and streamlined look. Reya Impex porcelain stoneware slabs the wide range of designs and traits of delicate porcelain stoneware surfaces, which can attain the numerous modern designs. These technical and eco-compatibility necessities amps the natural simplicity of the traditional marbles. Porcelain is produced from the integration of fine clay and a mineral called Kaolinite. The fine clay is rich with several mineral oxides, Feldspar, and Silica that imparts strength and colour to the Porcelain. The mixture of the fine clay and plentiful minerals is heated at a specified high temperature. Porcelain slabs are OEM manufactured by the dust pressed technique, which makes them dense, impervious, fine-grained and smooth, with a sharply formed face.
While OEM manufacturer of porcelain ceramic slabs for countertops, they're encrusted with a pigmented glaze and then these glazed porcelain countertops are used in the kitchen's countertops. This is done to provide them with an aesthetic appeal akin to natural stone or marble.
Slabs of porcelain may come in large format sizes and as large as 10 by 5 foot. Also they can be customized as per the requirement, they could be customized to the biggest possible and smallest possible size of porcelain tiles too. The large-format porcelain slabs are used in the kitchen area as affordable countertops, floors; in the bathroom area as bathroom appliances, vanities, shower walls, tub surrounds; the flexibility can extend even further to many other areas of commercial and residential as walls, fireplaces, floors, feature walls, exterior cladding, backsplashes, patios and even more. The large porcelain slabs usually come with a thin profile approx. 6mm and 12mm. Gauging merely 6mm and 12mm in thickness, they inevitably become some of the easiest and most lightweight materials to work with us.
Porcelain Tiles Slab Collection
They furnish an opportunity to effortlessly bring projects the scale and style of the natural stone slab where marble tile stone might be cost or installation unreasonable. They are considered to be one of the best alternatives and substitutes of marbles by prominent architects.
However, the broad gauge porcelain slabs are not precisely marble, they look like marble stone and could be farther versatile than the compact natural stone. The porcelain marble tiles and slabs are easy to maintain and care for porcelain as compared to marble stone and they are highly efficient to handle and transport in a bigger size as well in contrast marble face lots of challenges.
Furnished with the stamp of authenticity and timeless perfection, Reya Impex's porcelain slab withstands its quality over time. We offer an enormous gamut of porcelain slabs from large porcelain floor tile slab, black porcelain tiles, gray porcelain tile, blue porcelain tile & porcelain marble tile. They are specially curated and enhanced by great attention to details for a sophisticated and polished look to the tiles for home and offices providing a better alternative to natural sources like wood and marble stone. Reya Impex works continuously in producing the porcelain slabs and slats through technological inventions that offer a realistic depiction of the distinctive look of wood and marble present in nature, uniting this with the performance possessed by stoneware.
We bring in new ideas and techniques into our work which helps us keep an eye on future. The company has employed state of the art machinery to compete with global players. With fresh investments in latest generation digital printers, cutting edge automatic imaging machines, fully automated packaging lines, state of the art laboratories and an extensive portfolio of products and designs under its belt, Reya Impex is making fast inroads into the OEM business. Our ability to offer customized solutions and quick responses to market specific requirements makes us an ideal partner to join hands with.
With increasing demand for Indian products in the global market, Reya Impex is committed in fulfilling the demand by supplying these exact products to its destination. Our determination, sincerity and hard work has made us what we are today.
CALL:- +91 99870 63929
Email:- export@reyaimpex.com